By Fiona Haran 27 October 2020
At Innovate Textile & Apparel, the Italian manufacturer is exhibiting its highly technological calender systems developed with its long-term partner Voith Germany.
Since its establishment 50 years ago, the Ettore Guarneri Mechanical Company has become Guarneri Technology and is said to be the 'world leader' in calender systems with its partner Voith Germany.
Over the years it has grown in terms of commercial networks and international sales of highly technological calenders, also thanks to its partnership with Voith which began in October 2004. The collaboration has seen an increase in the development of Nipco rollers for the textile and technical textile industries.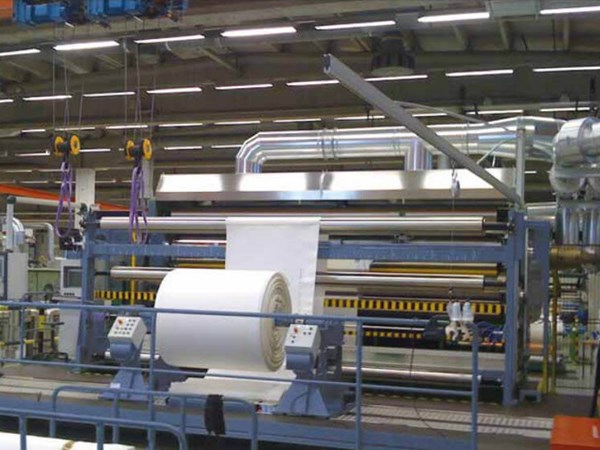 "Thanks to Voith's immense technical resources we have been able to develop a range of Nipco rollers that can meet the needs of different markets," says CEO Ettore Guarneri. "The number of competitors is growing every day and for us it is a challenge to technically improve our calenders recognised worldwide as the best on the market."
Exhibiting as part of the Italian Pavilion at Innovate Textile & Apparel, Guarneri Technology considers three main factors the key to Italian manufacturers' success: "Passion for the company, high technology research, and the flexibility to satisfy customers' needs."
Guarneri considers the event a great opportunity to show its technology to a global customer base during this challenging time for the industry. Fortunately, the company appears to have remained strong in the face of adversity.
"At the beginning of the pandemic and in the following months we managed to have excellent order bookings, and despite the difficult months, all our customers continued to believe in the market," says Guarneri. "Since last January we have applied all the safety protocols in the company, creating a safe situation in our company and, as one of my old American football coaches used to say: 'Work, work, work, win, win, win'."
"What we are facing is the challenge of the century and we must do everything possible to take care of our employees, our customers, our families and our companies."
The company will continue to apply this mantra to its operations with future goals centred around achieving "better control of the markets, local assistance to assist customers at 360 degrees, and to be present with highly specialised engineers", according to Guarneri. The manufacturer will also be focusing on the development of new products such as its Nipco Air Hybrid dye pad, "which is a real revolution in the world of dyeing," he adds.
To learn more about Guarneri Technology, click the above link to the company's booth at Innovate Textile & Apparel or visit its website https://www.guarneri-technology.com/